Brewed since 1992
Origin: Chambly, Quebec
Unibroue's first beer and the first refermented white beer brewed in the Belgian tradition to be bottled and marketed in North America.
The Blanche de Chambly label features the icon of the city where it is brewed: Fort Chambly. It was converted from a wooden barricade used for fighting against the Iroquois in the middle of the XVII century into a stone fortress to combat the British army at the beginning of the XVIII century. With notes of dried orange peel and coriander seeds, this brew is a worthy representative of classic Belgian-style white wheat beers. To date, it has won more than 34 international medals, including being named "The World's Best White Beer" on numerous occasions. Unibroue is proud to brew the most popular white beer in Quebec.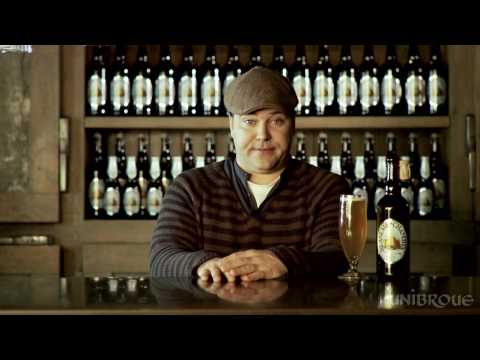 Nose
Subtle bouquet of spices with citrus notes, aromas of yeast breads, coriander and cloves.
Flavor
Notes of wheat, orange and spices, good sugar/acidity balance, honey finish.
Back
Aging process
Potential
Like good wine, Unibroue's fine beers have flavors that develop with age. Over time they become smoother, sometimes revealing notes of honey and candied fruit and developing a more assertive and lasting flavor. This phenomenon is known as "maderization" and is similar to the aging process of dessert wines like port.
Preservatives
Oxygen is the mortal enemy of beer because oxidation creates a stale, flat flavor. The yeast added to the bottle of Unibroue products triggers natural fermentation, consuming excess oxygen and preventing the beer's CO2 from oxidizing. This enhances the beer's aging potential. The high alcohol content of certain Unibroue products also lends itself well to aging by acting as a natural preservative.
Preservation methods
Store bottles upright in a cool dark place at a stable temperature between 46ºF and 61ºF.
)
Back
341 ml
473 ml
750 ml
Draft
Best as young as possible
World Beer Awards (London, UK)

2017
2016
2015
2013
2012
2011
2010

Category

Canada's Best Belgian Style Witbier Beer

Category

The World's Best Belgian Style Witbier Beer

Category

The World's Best Spiced Wheat Beer

World Beer Championship, Chicago Beverage Testing Institute

2017
2016
2015
2014
2013
2012
2011
2010
2009
2008
2007
2001
1998
1997
1996

Category

Best white ale in the world

Denver International Beer Competition
Canadian Brewing Awards
Los Angeles International Commercial Beer Competition
Mondial de la bière (Montreal, Quebec, Canada)
Australian International Beer Awards
World Beer Cup
Globe & Mail

Category

Best Tasting Canadian Beer
Footed flute
White fish
Mussels
Salmon tartare
Asparagus with butter
Mesclun salad with citrus dressing
Fresh goat cheese log
Washed rind semi-soft cheese
Gruyère
See more pairings
#UNIBROUE wants to hear from you.