Brewed since 1992
Origin: Chambly, Quebec
When La Maudite launched, its 8% alcohol content made it the first strong beer brewed in Canada. Its warm and spicy character, which was unique at the time, called for a blasphemous name.
Without a doubt Unibroue's best-known beer, La Maudite is inspired by abbey beers and Belgian double-style ales. It first hit the shelves in 1992 and took the province by storm with its 8% alcohol content, making it the first strong beer available in grocery stores.
That's where the idea came to tie its name and branding to a pact signed with the devil. The illustration of the "chasse-galerie" (or flying canoe) from a beloved Quebec legend captures the spirit of the beer.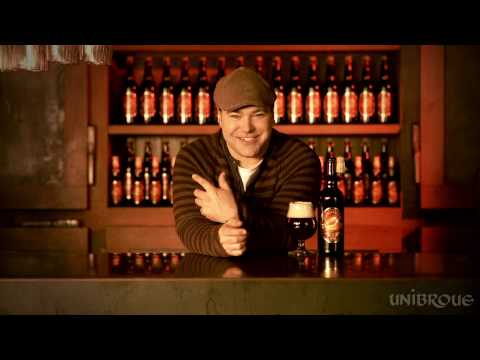 Nose
Malt, orange, spices with aromas of coriander and cloves, and hoppy floral notes.
Flavor
Velvety palate of caramelized sugar and marmalade, slightly roasted with a spicy finish.
Back
Aging process
Potential
Like good wine, Unibroue's fine beers have flavors that develop with age. Over time they become smoother, sometimes revealing notes of honey and candied fruit and developing a more assertive and lasting flavor. This phenomenon is known as "maderization" and is similar to the aging process of dessert wines like port.
Preservatives
Oxygen is the mortal enemy of beer because oxidation creates a stale, flat flavor. The yeast added to the bottle of Unibroue products triggers natural fermentation, consuming excess oxygen and preventing the beer's CO2 from oxidizing. This enhances the beer's aging potential. The high alcohol content of certain Unibroue products also lends itself well to aging by acting as a natural preservative.
Preservation methods
Store bottles upright in a cool dark place at a stable temperature between 46ºF and 61ºF.
)
Back
341 ml
750 ml
Draft
3 to 5 years
World Beer Championship, Chicago Beverage Testing Institute

2017
2016
2015
2014
2013
2012
2010
2009
2008
2006
2002
2001
1998
1997
1996
1995

Les prix du publique – Volet bière (People's award – beer)
World Beer Awards (London, UK)

Category

Canada's Best Belgian Style Dubbel

Denver International Beer Competition
Globe & Mail
Australian International Beer Awards
Canadian Brewing Awards
Mondial de la bière (Montreal, Quebec, Canada)
World Beer Cup
Balloon
Poutine
Grilled steak
Indian dishes
Spicy food
Tomato-based dishes
Pulled pork
Chorizo
Trout and salmon
Red mullet or snapper
Grilled tuna
Semi-soft washed rind cheese
Salty blue cheese
Fresh goat cheese with herbs
Emmental
Beemster aged Dutch cheese
Créme brûlée
Pouding chômeur (poor man's pudding)
See more pairings
#UNIBROUE wants to hear from you.