Brewed since 1994
Origin: Chambly, Quebec
To date, La Fin du Monde has earned more medals and awards in major international competitions than any other Canadian beer. It is Unibroue's international flagship ale.
It took 18 months of research before La Fin du Monde saw the light of day in February 1994. Representative of a style that was originally developed by medieval monks who served beer on special occasions, it is a premium beer with a surprising finesse. Like Trappist triple ales, La Fin du Monde is brewed and refermented in the bottle—a first in the American market at the time of launch.
To date, it is the most awarded Canadian beer and has been honoured at several top international competitions. True to tradition, Unibroue brewed this beer in honour of the French explorers who, when they discovered North America, believed they had reached "the end of the world".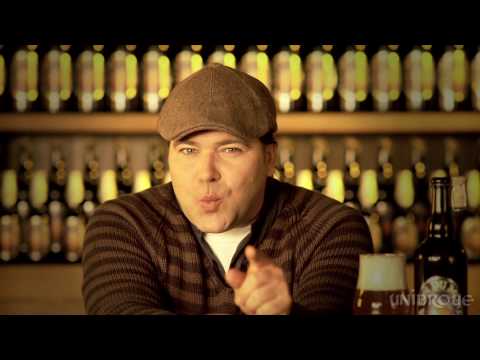 Nose
Floral bouquet, fresh baguette, with aromas of honey, spices, coriander, malt and alcohol.
Flavor
Mildly hoppy palate with notes of grains, fruit and spice, followed by a smooth, dry finish. A perfect balance of sugar, acidity, bitterness, spices and alcohol.
Back
Aging process
Potential
Like good wine, Unibroue's fine beers have flavors that develop with age. Over time they become smoother, sometimes revealing notes of honey and candied fruit and developing a more assertive and lasting flavor. This phenomenon is known as "maderization" and is similar to the aging process of dessert wines like port.
Preservatives
Oxygen is the mortal enemy of beer because oxidation creates a stale, flat flavor. The yeast added to the bottle of Unibroue products triggers natural fermentation, consuming excess oxygen and preventing the beer's CO2 from oxidizing. This enhances the beer's aging potential. The high alcohol content of certain Unibroue products also lends itself well to aging by acting as a natural preservative.
Preservation methods
Store bottles upright in a cool dark place at a stable temperature between 46ºF and 61ºF.
)
Back
341 ml
750 ml
Draft
3 to 5 years
World Beer Championship, Chicago Beverage Testing Institute

2017
2016
2015
2014
2013
2012
2011
2010
2009
2008
2007
2006
2005
2004
2002
1998
1997
1996
1995

World Beer Awards (London, UK)

2017
2016
2016
2015
2015
2015
2014
2013
2011
2010

Category

Canada's Best Belgian Style Tripel

Category

World's Best Belgian Style Tripel

Category

Canada's Best Belgian Style Tripel

Category

World's Best Belgian Style Tripel

Category

The America's Best Belgian Style Tripel

Category

Canada's Best Belgian Style Tripel

Les prix du publique – Volet bière (People's award – beer)
Denver International Beer Competition
Alberta Beer Festival
Mondial de la bière (Montreal, Quebec, Canada)
Canadian Brewing Awards
World Beer Cup
Australian International Beer Awards
Tulip
Sausages
Quiche or omelette
Osso bucco
Trout or salmon
Mussels
Scallop ceviche
Fresh oysters
Salty blue cheese
Creamy blue cheese
Aged cheddar (1 to 3 years)
Parmesan cheese
See more pairings
#UNIBROUE wants to hear from you.