Brewed since 2002
Origin: Chambly, Quebec
The most beloved and well known of the Éphémère beer series. Its amazing popularity across North America has made it a year-round favourite instead of only a seasonal brew.
As its name suggests, Éphémère is an ephemeral ale that comes and goes with the seasons. It was developed as a series to feature a seasonal fruit in a refreshing, lightly spiced white ale. The label depicts a fairy, an ephemeral spirit associated with fruits picked at the peak of ripeness during each harvest season. She first appeared in the spring of 2000 and has since been celebrated on a variety of seasonal fruit ales such as apple (brewed all year long), cranberry, blackcurrant, peach, raspberry and blueberry.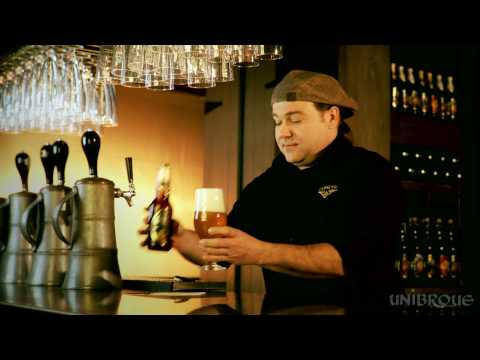 Nose
Granny Smith apples, nutmeg, ginger and cinnamon.
Flavor
Saline attack with an explosion of apple flavours, and a grainy and tart green apple finish.
Back
Aging process
Potential
Like good wine, Unibroue's fine beers have flavors that develop with age. Over time they become smoother, sometimes revealing notes of honey and candied fruit and developing a more assertive and lasting flavor. This phenomenon is known as "maderization" and is similar to the aging process of dessert wines like port.
Preservatives
Oxygen is the mortal enemy of beer because oxidation creates a stale, flat flavor. The yeast added to the bottle of Unibroue products triggers natural fermentation, consuming excess oxygen and preventing the beer's CO2 from oxidizing. This enhances the beer's aging potential. The high alcohol content of certain Unibroue products also lends itself well to aging by acting as a natural preservative.
Preservation methods
Store bottles upright in a cool dark place at a stable temperature between 46ºF and 61ºF.
)
Back
341 ml
750 ml
Draft
Best when fresh
World Beer Championship, Chicago Beverage Testing Institute

2017
2016
2015
2014
2013
2012
2011
2010
2008
2007

World Beer Awards (London, UK)

Category

Canada – Fruit / Vegetable Beer

Denver International Beer Competition
Canadian Brewing Awards
World Beer Cup
Mondial de la bière (Montreal, Quebec, Canada)
Los Angeles International Commercial Beer Competition
Australian International Beer Awards
Fluted tulip
All cuts of pork
Pulled pork
Bacon
Grilled scallops
Fresh oysters
Aged cheddar (3 to 5 years)
Soft cheese
Goat cheese
Blue cheese
Apple crisp
Tarte Tatin
Apple pie
Fruit-filled crepes
See more pairings
#UNIBROUE wants to hear from you.