Brewed since 2010
Origin: Chambly, Quebec
This Belgian-style saison ale is the last of the "de Chambly" beer trilogy. It is spicy like a Belgian beer and hoppy like a Czech beer.
This is Unibroue's own interpretation of a Belgian saison ale, traditionally brewed in winter by farm breweries. Stored for a few months, they were then served to field workers as a means of helping them cool off on long, hot summer days. Saison ales were considered highly refreshing, even when served warm in the days before refrigeration.
Blonde de Chambly pays tribute to the Filles du Roy, the women who came to New France between 1663 and 1673 to marry soldiers of the Carignan-Salières Regiment, among others, and start their families in the Montérégie.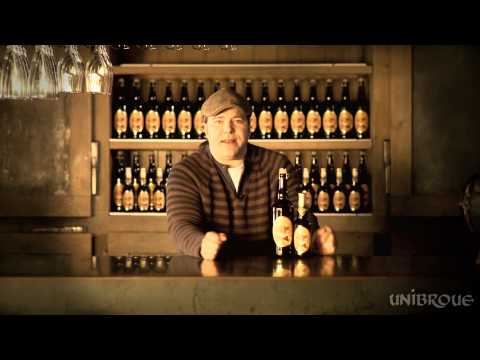 Nose
Lemongrass, wildflowers and fresh hops.
Flavor
Crisp acidity of lemongrass followed by sweet honey, notes of pepper and a sharp, floral finish.
Back
Aging process
Potential
Like good wine, Unibroue's fine beers have flavors that develop with age. Over time they become smoother, sometimes revealing notes of honey and candied fruit and developing a more assertive and lasting flavor. This phenomenon is known as "maderization" and is similar to the aging process of dessert wines like port.
Preservatives
Oxygen is the mortal enemy of beer because oxidation creates a stale, flat flavor. The yeast added to the bottle of Unibroue products triggers natural fermentation, consuming excess oxygen and preventing the beer's CO2 from oxidizing. This enhances the beer's aging potential. The high alcohol content of certain Unibroue products also lends itself well to aging by acting as a natural preservative.
Preservation methods
Store bottles upright in a cool dark place at a stable temperature between 46ºF and 61ºF.
)
Back
341 ml
750 ml
Draft
Best as young as possible
- 2014 -

Gold

World Beer Awards
(Londres, GB)

- 2014 -

Silver

World Beer Awards
(Londres, GB)

- 2013 -

Silver

World Beer Awards
(Londres, GB)

- 2012 -

Bronz

World Beer Awards
(Londres, GB)

- 2011 -

Bronz

World Beer Awards
(Londres, GB)

- 2005 -

Bronz

World Beer Awards
(Londres, GB)
Footed flute
Shop now
Mild sausages
Pad Thai
Asian dishes
Samosas
Shawarma
White fish
Fried calamari
Shrimp
Guacamole
Green salad
Brussels sprouts
Tahini
Washed rind cheese
Fresh goat cheese
Aged goat cheddar"
See more pairings
#UNIBROUE wants to hear from you.